Basically this is a weekly challenge that can be posted any time during that week (you can also skip weeks). Ill be posting my nails on
my instagram
using the hashtag #busygirlnails so if you prefer to see them there make sure you're following me. This week's theme was stripes!
These nails refused to photograph (or even edit) well but I had a lot of fun doing them! They're fun without being too over-the-top.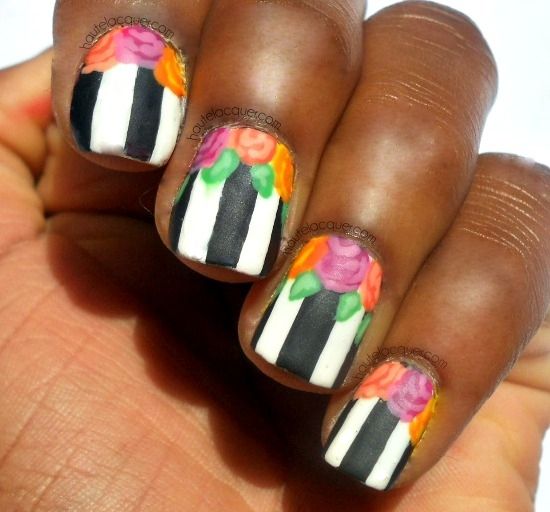 I wasn't inspired by anything in particular when doing this design but I have a feeling this has been done before so if it has it's purely coincidental!
For this manicure I used black and white acrylic paint along with a nail art brush for the striped base. Then, using a small nail art brush, I created the rose pattern along the top of each nail using a variety of colors (just ask if you'd like specific names!). I drew leaves on only two fingers for a more unique look, I used Essie Mojito Madness for those and lightened it for the lighter green. Essie Matte About You was applied to create the matte finish.
I loooove today's manicure! What do you think? Too much or just right?
*click image to read*