Happy 12/12/12 Day!
Obviously not as exciting as 11/11/11 was for most people but whatever, it's the last "repeating number date" in a while so I plan on enjoying it.
Actually, let's do something random to..."celebrate" I guess. For each 12, I'll tell a random fact that relates:
12- The age I was when I went into middle school, oh the memories.
12- The number of pages I have on my blog (errm, some are hidden).
12- The number of black shirts I have in my closet...that's right, I counted.
Alright, now that that's done, moving on to the manicure!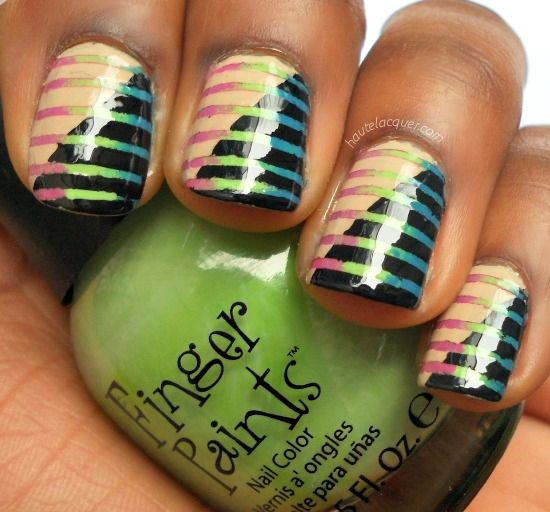 For this manicure I used
Wet N Wild Candylicious
,
Finger Paints Chrysanthe-Mum's the Word
, and
Zoya Breezi
as the gradient. I sponged on each color onto my naked nail. I let that completely, 100% dry then took striping tape and laid down the pieces to create horizontal stripes across the entire nail. I painted diagonal sections of black (acrylic paint) and nude (
Zoya Avery
) over the tape. After letting it dry a bit I removed the tape and slapped on some topcoat.
Let me know if you guys would like a tutorial on this design, words are sometimes hard to follow.
P.S. Make sure to enter for Day 1's prize in the 7 Days of Christmas Giveaway!
*Zoya Avery provided for review