I remember when I was little every Sunday my mom would take us to church. Our church as a French/Creole church and at the time I couldn't understand a thing they were saying. The entire time I just stared at the pretty stained glass windows surrounding us and admired them. As a little girl, this seriously fascinated me!

Today's design reminds me of the stained glass windows. Although not exact, they take me back a little!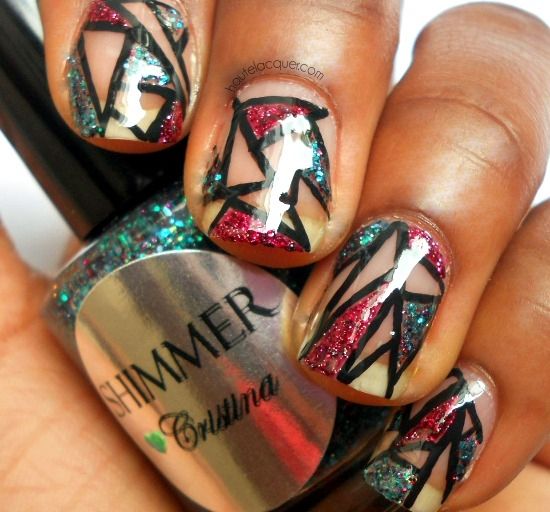 I decided to try this design on naked nails, with no base. I'm not feeling it so much but I think it's an...interesting look.
Below is this manicure before top coat. The glitters dry this matte! (Black is acrylic paint).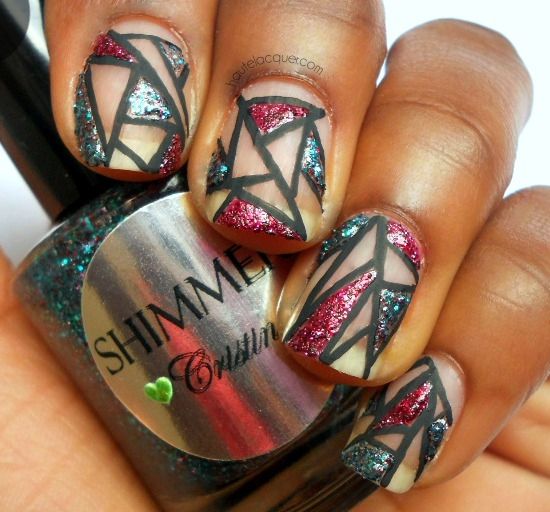 For this manicure I used
Shimmer Polish Eva
(red) and
Shimmer Polish Cristina
(blue) for the glitter "tiles". As I said, there is no base used in this mani. I started off with acrylic paint and used it to draw sections in the nail. I then filled random "tiles" in with the two
Shimmer Polish
polishes.
Now let's take a look at the two glitters on their own! They have such a unique, matte finish that I love.
Shimmer Polish Eva is a beeeeautiful cranberry red glitter. This has a nice balance of silver and darker/lighter red glitters throughout. Without topcoat it almost looks like a textured finish, with topcoat it GLOWS! 2 coats, easy application.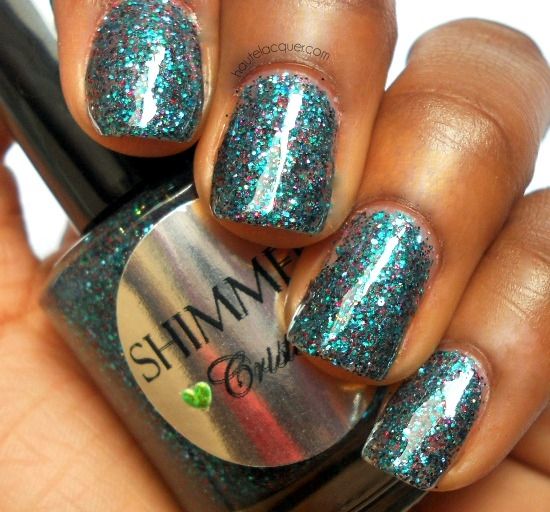 Shimmer Polish Cristina is a turquoise-blue-clear base packed with turquoise, red, and darker teal glitters. Gorgeous in 3 coats. This one also dries matte but is pretty with or without topcoat!
Shimmer Polish retails from $10.00-$12.00 ($10 for top coats) and can be purchased on
Etsy
and found on
Facebook
, and
their website
.
P.S. Follow me on
bloglovin
! In case Google Friend Connect gets discontinued, you'll be able to keep up with my latest posts!