Prom season is here and today I want to share with you three quick and easy designs that anyone can recreate. I know this post is a little late for some but you can also rock these designs in other variations any time of the year!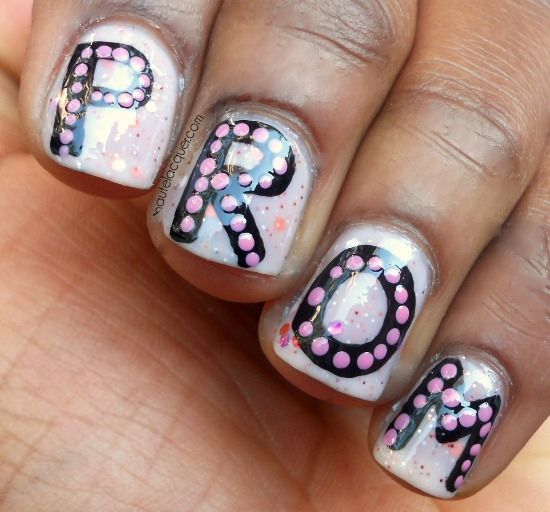 I promise this is easier than it looks! If you're just starting out with nail art and are not comfortable with drawing letters, skip the black letters and just use any dotting tool to create the word "PROM" with polka dots.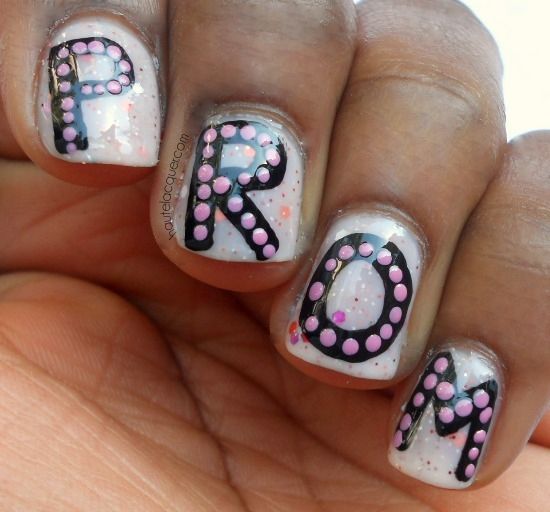 Here is a quick tutorial on how I achieved this look:

Step 1: After applying a base coat, paint two coats of your base color.I used Lex Cosmetics Tuileries.
Step 2:
Using black nail polish/acrylic paint, with
a nail art brush
carefully spell out "PROM", placing one letter on each nail. The thumb nail can be an accent of just nail polish or anything else you'd like.
Step 3: Create polka dots following the letters on each nail. I used a dotting tool and OPI Sparrow Me The Drama for this step.
The next design is the simplest of the three. All you'll need is
a dotting tool
(Don't have one? No worries. Use a toothpick, bobby pin, or even a pencil!) and a few nail polishes.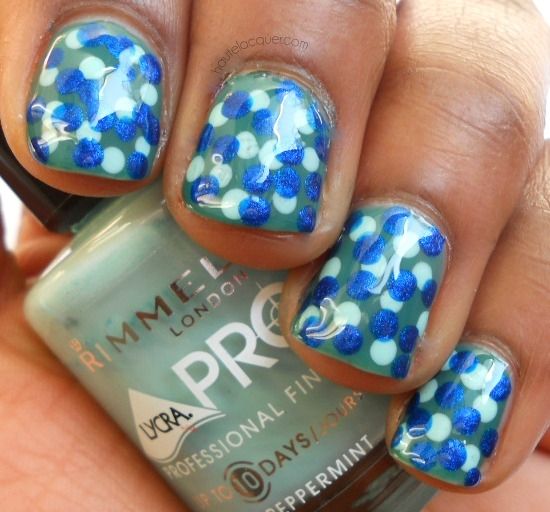 Is your dress pink? Recreate this design with pinks instead!
How to create this look:
Paint your nails with two coats of the polish of your choice (I used China Glaze Exotic Encounters). Next, use your dotting tool and a light cream polish (I used Rimmel Peppermint) to create polka dots all over. Then, take your dotting tool and a shimmery nail polish (I used Sinful Colors Midnight Blue) and create polka dots throughout the entire nail, randomly placing them. Feel free to add more polka dots in different colors for an even more interesting look.
This last look is my favorite, stripes are always my go-to design and would be perfect for prom. Use a glitter for a nice pop!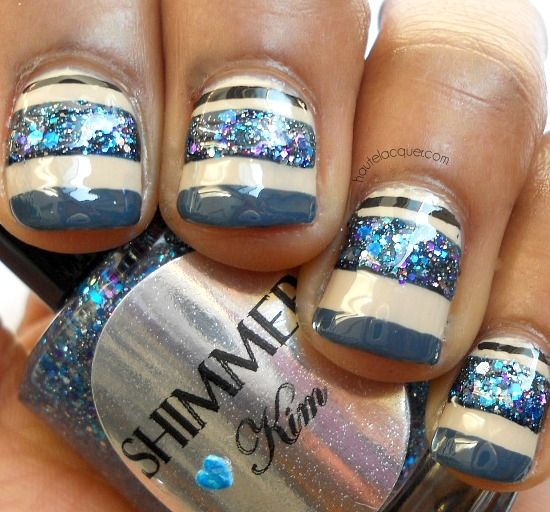 How to create this look:
If you are comfortable enough, use a nail art brush and colors of your choice to draw stripes across your entire nails. If you are new to nail design, use tape to create sharp clean lines: First you will want to paint your base color (I used Zoya Avery) and let it 100% dry. Then, lay down two pieces of tape as far apart or as close as you'd like. Repeat this process for each stripe. The farther apart, the bigger the stripe. Easy enough, right?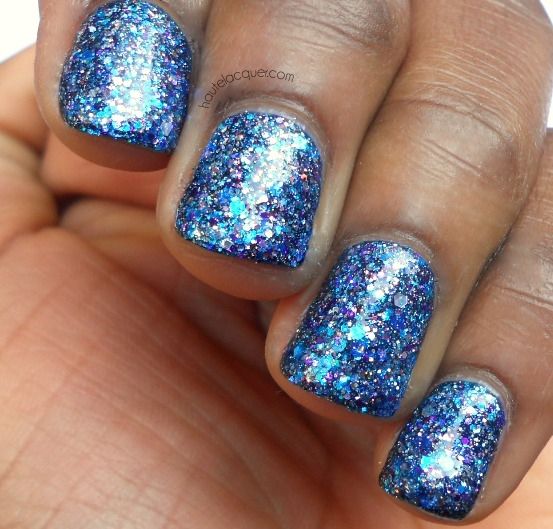 If stripes are just not your thing, a pretty glitter will do!
Shimmer Polish
Kim
(pictured above over CCUK
Midnight Blue
) is great for prom. It's a gorgeous polish packed with small purple, blue, and turquoise hex and circle glitter. It also seems to have micro-glitter mixed in. It dries quickly with only two coats so if you're in a rush, this will be perfect!
So if you're going to prom this year these easy designs will complement your look no matter what you're wearing. Which is your favorite? Do you plan on matching your nails to your dress for prom?