Bonne journée!
If you're following me on
Instagram
then you'll probably already know that I spent a few days at the beach. I absolutely love being at the beach! The ocean's waves are so relaxing and beautiful to me.
While I was down there my favorite thing to do was to open the balcony doors and listen to the waves crashing. And if you can't tell already, my love for the ocean inspired today's design.
I love the nude-blue gradient going on in this manicure! It's an unexpected combination that's perfect for the beach.
Can I just say, Zoya Godiva makes for perfect sand? Nail art win!
For this manicure I used
Zoya Avery
(index and middle),
Zoya Nyx
(ring), and
Zoya Godiv
a
(pinky) as the bases. For the gradient I took a sponge and carefully sponged on Zoya
Nyx
. Since the PixieDust polishes are sheer, I sponged on many layers making sure to make it more opaque towards the tip of the nail. For the "waves" I used a
thin nail art brush
, steady hands, and
OPI Skulls and Glossbones
. I left the index and middle sans top coat for a cool effect.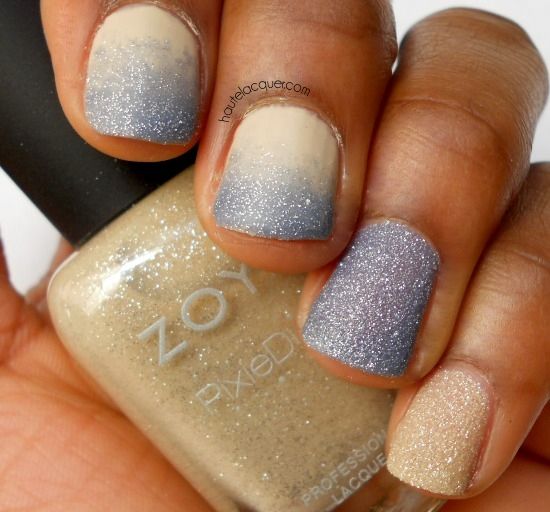 This was my first time using the
Zoya PixieDust
polishes and I was more than impressed! I have heard many complain about the slow dry time but for me these dried extremely fast for three coats each. As I said earlier, these both were quite sheer and required 3 to 4 coats for full coverage. I just love the interesting textured matte finish that sparkles! Although these are textured they are not rough and won't catch the threads on your clothes, etc. Love, love, love these!