Good morning!
Today is the last day of Laquerlicious nail designs. So far I've done a V-Day design, a Geometric design, and now a Chevron design right here on this post. This one is my favorite design of the three!
On top of the Laquerlicious designs and swatches this week, I am hosting a giveaway where a lucky follower will win three mini polishes from Laquerlicious, you can enter here.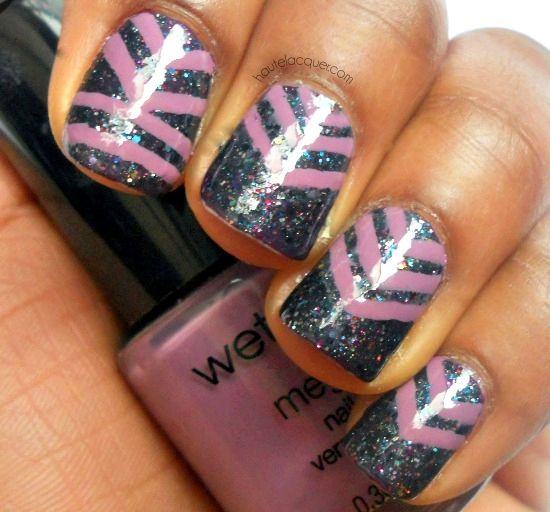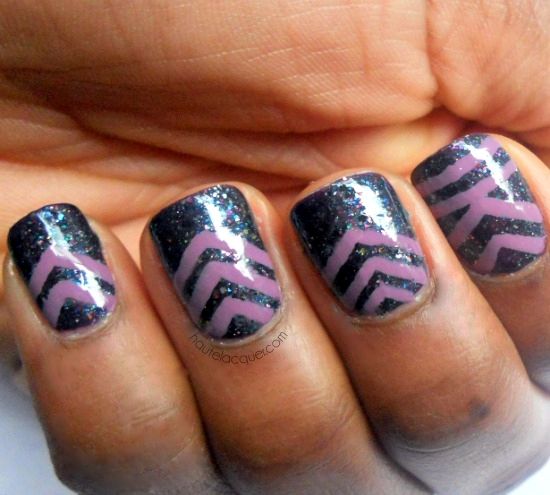 For this manicure I used Laquerlicious Pebble Stone layered over Zoya Monica as the base. Then I carefully drew the chevron stripes, one at a time. For a more interesting look I created three chevron stripes on the middle and ring fingers and only two on the index and pinky fingers. For an extra accent I created horizontal stripes across the index finger. All these stripes were created using Wet N Wild Bite the Bullet.
The base of this mani, Laquerlicious Pebble Stone, kind of reminds me of a galaxy, no?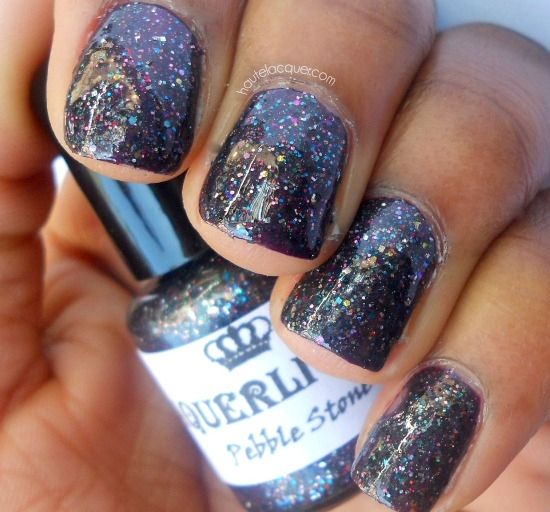 Laquerlicious Pebble Stone is a multicolored small glitter suspended in a dark purple--almost black--jelly base. This is two coats layered over Zoya Monica. This is another one of those colors that is just "meh" in the bottle but then transforms on your nails! So unique and pretty! This is a semi-hungry glitter though so I used two thick coats of topcoat for these swatches and the above design.

Pictures are just not doing this polish justice, the colors are much more vivid in real life! Love.


Laquerlicious retails for $8.50-$15.00 (depending on what type of nail polish) and can be purchased on
Etsy
and found on
Twitter
,
Facebook
, and
Instagram
*Polishes sent for review