Gooood morning everyone!
This is part two of the Sation manicures/reviews! The holidays are right around the corner so what better way to prepare then with a holiday manicure? I apologize for the lighting being so "off" in these pictures, I was battling with the sun all day!
For this manicure I used
Sation 3 Free-Dom
as the taupe base. Next, using a nail art brush, I created the outline of all the leopard spots using
Sation I Paint in Peace
. I used the same brush to fill in the spots with
Zoya Ziv
, then I went over the spots with
Sation No Rings Attached
. The accent finger (the ring finger) was created with a chevron print inspiration. I used
Zoya Ziv
and
Sation NRA
once again for the gold and
Sation I Paint in Peace
for the thin green chevron. As always, I finished with a top coat.
Now let's have a closer look at the polishes used in this manicure...
All pictures taken in indirect sunlight, without flash, and without topcoat unless otherwise stated.
Sation F
ree-Dom is a taupe jelly. SUPER shiny...oh my goodgosh! This is gorgeous, I really love it. Free-Dom is very buildable and applies evenly. In this picture I have 3 coats on the pointer and middle fingers and 2 coats on the index and pinky fingers. Again, this is SO shiny, no top coat

here

y'

all!
Sation
I Paint in Peace is a somewhat muted garland green with silver/gold microshimmer. Application was very smooth wit

h this one.

I love the name by the way! And the best thing about this poli

sh? It's a one coater! Yes, you read that right.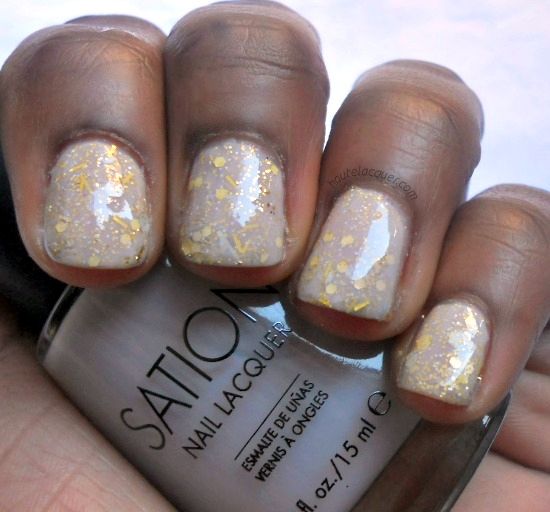 Lastly we have
Sation No Rings Attached.
For some rea
son I can
't find the image of this alone so here it is
in a jelly sand
w
ich with
3
Free-dom
. NRA is a stunning gold multiglitter in a clear base. There's round, hex, and bar glitter packed into this one! I love it, so gorgeous.
And as a little bonus, here's the brush of the Sation polishes. I enjoyed using the brush, made application easy and smooth.
Overall, I'm very pleased with Sation. As I mentioned in my last post this is my first experience

using this brand's polishes and I'm very pleased. The quality is great and
the formula was easy to work with, with the exception of
Ego Friendly's
tough application (see last post for more info). The brush (see above) is perfect for application, not too wide or thin and just long enough for easy coverage of the nail. You can find Sation polishes in select TJ Maxx, Marshalls and Winners (Canada) stores as well as
online for $5.00 each
.
*Sation polishes sent for review