I have a quick post for you all today!
This is a manicure I wore out shopping the other day, I literally woke up from a nap, did my nails, and got dressed. What can I say? I don't like going outside the house without my nails done!
And a little side note: I'm holding Zoya Creamy in the pictures but I didn't use it in this design.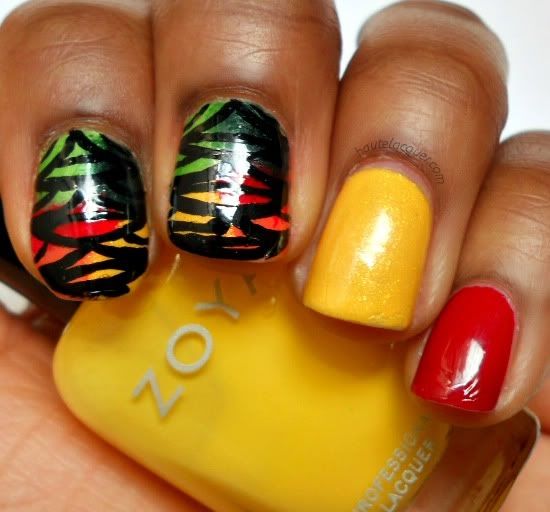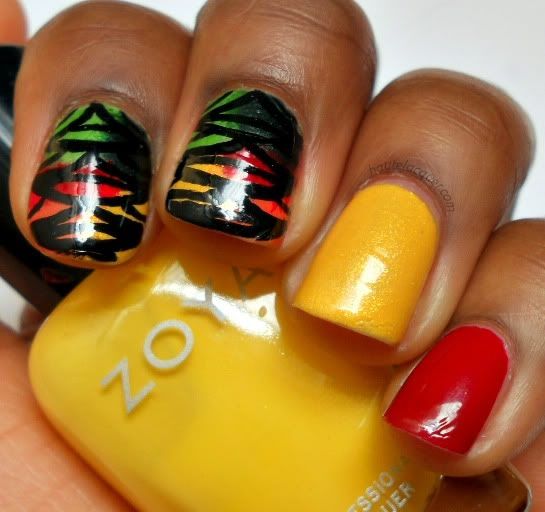 For this manicure I used Barielle Soul-er Powered on the ring finger and Zoya Rekha on the pinky and thumb (not shown). The index and middle fingers were done using the sponging method. All I did was take the following colors and sponge them on in the order of yellow, orange, red, light green, dark green: Barielle Soul-er Powered, Essence What Do U Think?, Zoya Rekha, Fingerpaints Groovy Green, and Zoya Ray. I created the lines in a semi-random pattern. I did a chevron type design at first then went crazy with curved lines, lol. I finished off with top coat.
This picture was taken a day after wearing this mani so please excuse the scratches. I'm not gonna lie, I'm loving the "double accent" manicure. I really do!