Good morning!
Today I have swatches of Zoya's Fall collections Designer, Diva, and Gloss.
Zoya's Fall Collections this year have left big shoes to fill for next year's collection.
I love that these collections have such a large
variety
.There is a different finish for everyone, whether you're a jelly girl or a metallic girl.
Let's start with the
Diva Collection
, six gorgeous metallics and shimmers.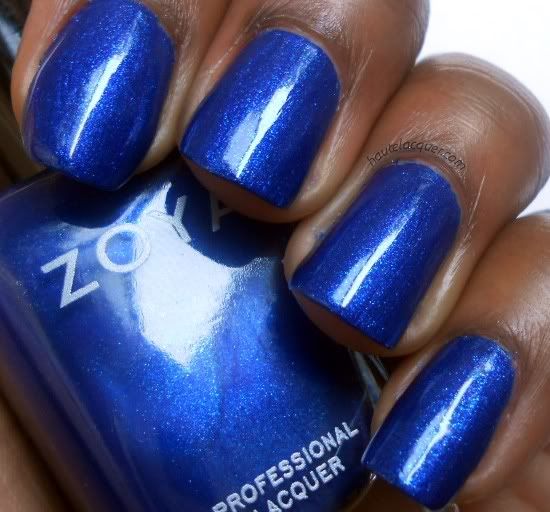 Zoya Song
. I love the name of this one and it just happens to be one of my favorites. Song is a
super
vibrant metallic blue with blue shimmer particles. When I say vibrant I mean a really vibrant, really bright blue! This reminds me a lot of
Orly Royal Navy
, only this shimmer isn't the same tone of blue.
Zoya
Suri
is a royal purple shimmer. This has a bit of a frost characteristic to it but it's not a complete frost either. The application was incredibly smooth with Suri, it was like melted butter. This is 2 coats.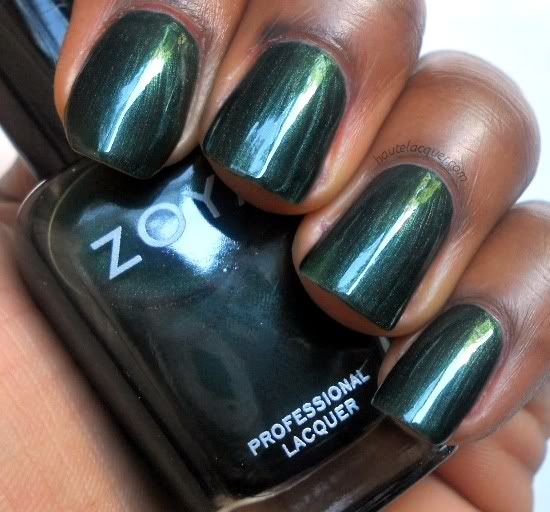 Next we have
Zoya Ray
, a sexy dark pine green shimmer! This is the same type of finish as Suri, not quite a frosty finish but close. You have to be careful with application to avoid brushstrokes. They aren't as visible in real life as they are in this picture. 2 easy coats.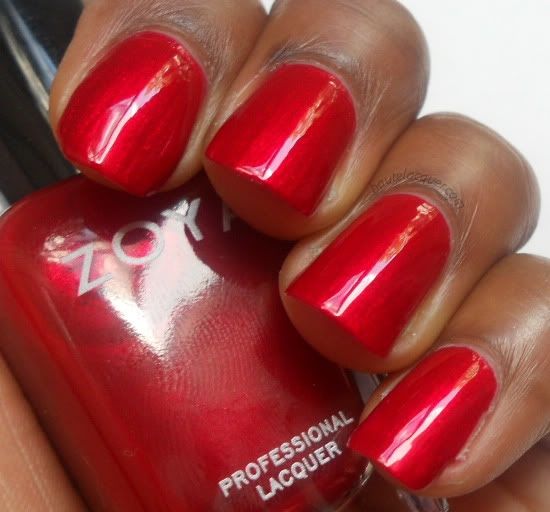 Zoya Elisa
. This has the same finish as Ray and Suri but I found this to be the least frosty. Elisa is a bright red shimmery metallic. When I was removing it, I noticed it had a bit of a pink undertone to it.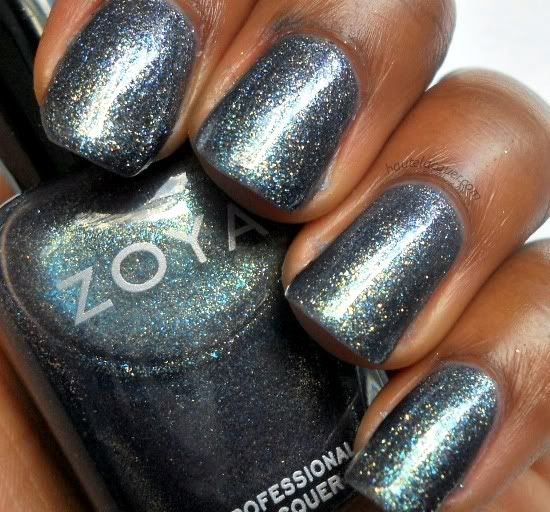 FeiFei
is a stunning grayish blue metallic with gold, blue and silver shimmer particles. This is an extremely unique and gorgeous color, I have nothing else like this in my collection! Easily one of my favorites. It is a lot more blue in person than my camera picked up, you have to see this in person to appreciate it's beauty. 2 coats.
Zoya
Daul
is a beautiful blue toned purple packed with gold glitter/shimmer particles. This is more like chunky shimmer if there was ever such a thing. This polish is similar to Zoya
Faye
and all it's dupes but they have different colored bases. 3 coats here.
Moving onto the
Designer Collection
, six delicious creams. Two of which were originally designed for fashion designers Bibhu Mohapatra (
Rekha
) and Peter Som (
Evvie
).
Let's start with
Zoya Evvie,
a smoky medium gray with green tones throughout. The green undertones are very subtle. 1-2 coats, almost a one coater.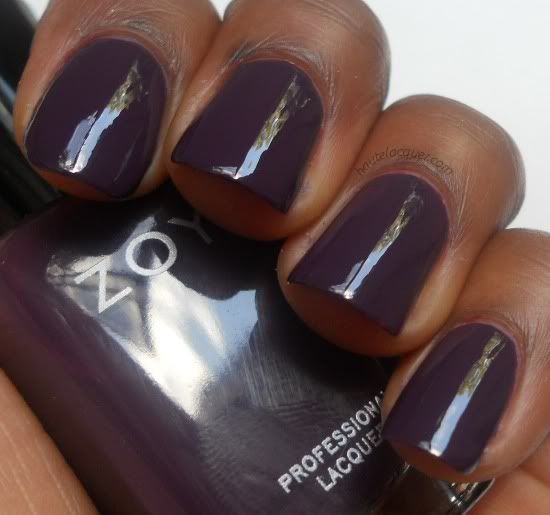 Monica
is a very smoky purple. J'adore. I'm not sure there are any words to describe how much I adore this color! Zoya has a way of making simple creams unique and this is another one of those. 2 coats.
Next we have
Zoya Natty
. This is a smoky denim dark blue cream. Another favorite! I'm already a sucker for Zoya's creams but this only intensifies that love. I also love that this works for my skin tone, not all dark colors do unfortunately. 2 coats.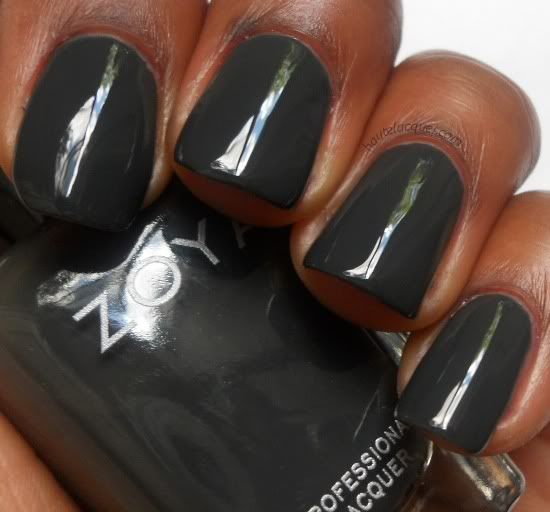 Noot
is a dark charcoal gray with the tiniest hint of green. This is only one coat and it's super opaque. That's always a good thing, am I right?
Zoya
Rekha
is a medium red cream with an almost jelly like finish. It's extremely shiny but not as bright red as it appears in the picture. I'm always calling this one
Red
ka. I think I'm going to keep calling it that too...I kind of like it. 2 coats, which
stains pretty badly
. Please wear a base coat with this one.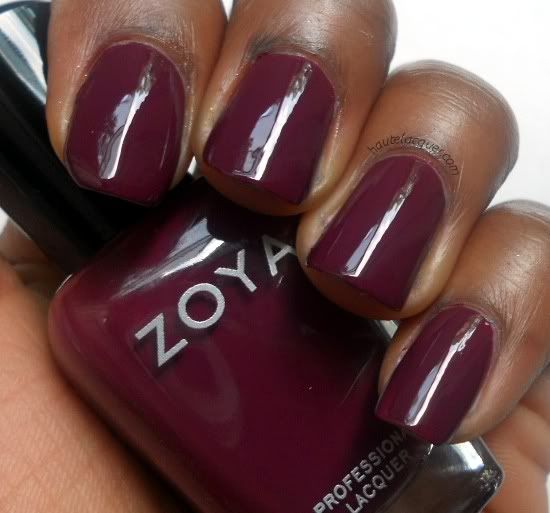 Toni
. This is a smoky, medium prune, purple cream. This is almost a one coater but I used 2 for this picture.
Last but not least, the
Gloss Collection
. A collection of three jelly polishes, one of which was created for the designer Peter Som (
Katherine
).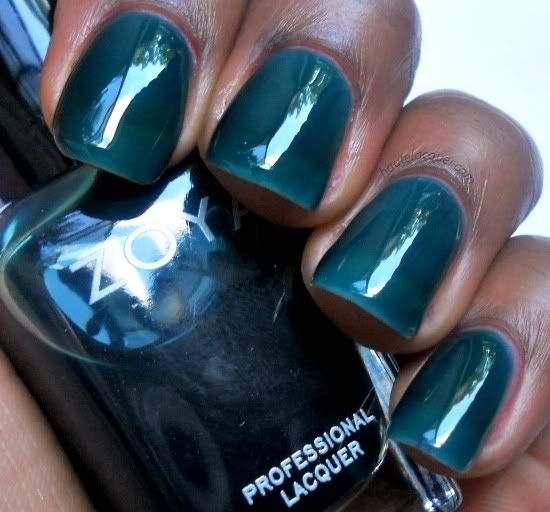 First is
Zoya Frida
. This is a dark teal jelly. Like the majority of jelly polishes, this is very sheer and must be built up for opacity.
I had the hardest time with application with this, I would advise waiting in between coats.
I used 3 coats here but four would be best for a little more opacity.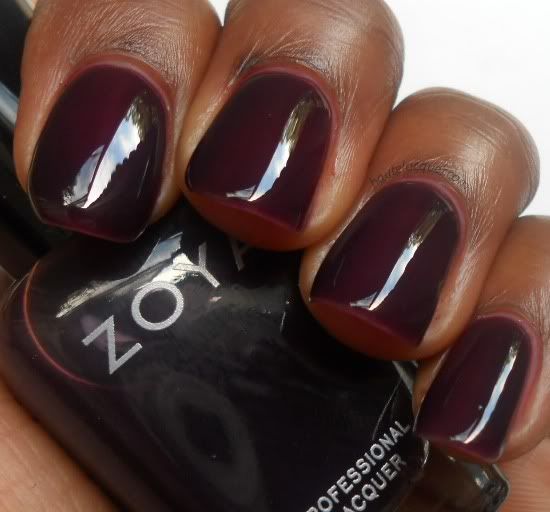 Katherine
is a dark eggplant purple jelly. Application was much easier with Katherine, 3 easy coats.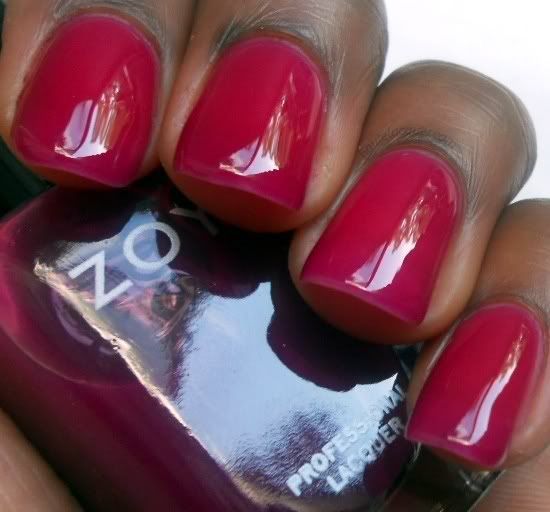 And lastly we have
Zoya Paloma
. A berry red jelly. This is my favorite of the three, so gorgeous! This is 3 flawless coats.
Overall, I love all three collections. There is a large variety of all colors and finishes and something for everyone and every skin tone. Not to mention the unique colors to choose from, even the creams are unique in a way! I always like to mention which colors complements dark skin tones, and I feel that all of these colors did just that. My favorites were FeiFei and Song from the Diva Collection, Monica, Natty, and Evvie from the Designer Collection and Paloma from the Gloss collection. The formula on all these were superb and I had no problems with them, with the exception of Rekha's staining and Frida's application.
Zoya's Designer, Diva, and Gloss Collections will be available online at
zoya.com
starting July 15, 2012.
*Products sent for review