Good morning!
I did this manicure a while ago but never got to posting it. The inspiration for this manicure actually came from my collection! These colors all kind of sit pretty next to each other and I really wanted to see them together on my nails.
Also I loved doing letters on my nails, like my
'Faded Gradient' post
so I gave it another try!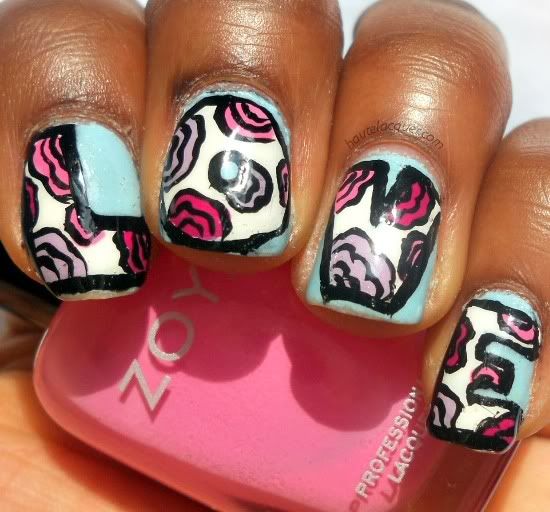 If you're wondering what the thumb looks like...
*Apologies for the awkward hand pose*
For this manicure I used
Essence I Like
as the base. Then, using my nail art brush, I took
Wet N Wild French White Creme
and painted each letter (and the heart on the thumb). I did it as large and as bold as I could. Afterwards I started to create the roses by painting random blobs of
Zoya Shelby
,
Zoya Reagan
, and
Essence
Bloom-a-Loom
and outlining them with black. Once all the roses were created I outlined all the letters (and the heart) with black. I even added a scalloped border to the heart. I finished off with topcoat.
This is one of my favorite manicures that I've done, it took me a while but it turned out nice!