Happy Mardi Gras!
Do people say that? I know there's "Happy Valentine's Day" and "Happy Birthday" but I've never heard anyone say "Happy Mardi Gras."
Ah, whatever, it is what it is.
This took me close to two and a half hours to do. And that's just one hand! I especially had a lot of trouble with the index finger. Apparently it's impossible to get an evenly proportioned mask. But it was all worth it; I love the finished result!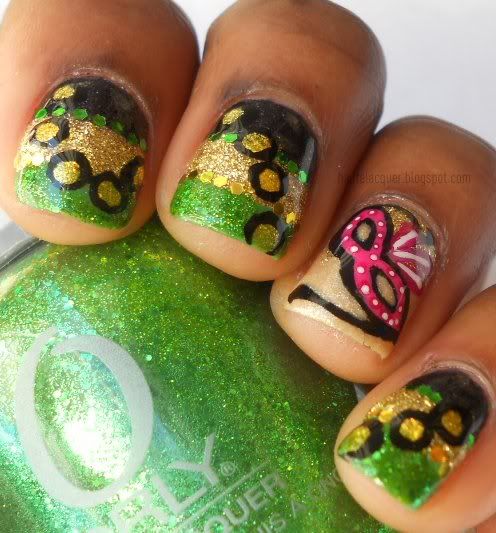 For this manicure I used
Orly Out of this World
(which my best friend, Emily, gave me) as the deep purple base. Then I created a horizontal stripe in the middle with
Color Club Enchanted Holiday
. The green stripe, closest to my tip, is
Orly Here Comes Trouble
. I used a dotting tool and
China Glaze Brighthouse
to create the gold beads and then I outlined them in black. The mask was created using (mainly)
Zoya Lolly
and a variety of pink polishes. I then added on some loose glitter and slapped on a thick coat of Seche Vite.
I don't feel like these pictures are doing any justice to this manicure. It's fun, glittery and so pretty in person!