Happy New Year!
By the looks of this Spring collection from Zoya, this is going to be an amazing year for polish!
Not only do we get Zoya's great creams and shimmers but we also get a new finish from them..."Fleck Effect" flakies top coats. Are you excited yet?
First is
Cho
, a pretty nude with subtle silver shimmer. I found this one difficult to work with as it was pretty sheer but was fine after three coats. I just love the hidden shimmer in it!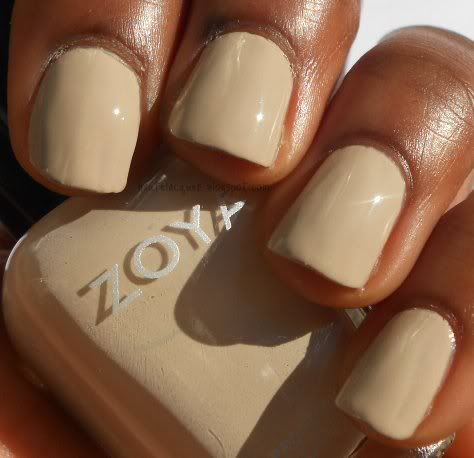 Another neutral, this one is
Farah
. This is just your standard nude-taupe. Farah had very smooth application and was opaque in two easy coats. Nothing better than a full coverage nude, am I right?
Bevin
. This is a soft, cool-toned, sage green. Application was a dream with two flawless coats. How many more gorgeous greens can Zoya give us? I thought the best had come with
Yara
and then they give us another one. But hey, I'm not complaining.
Next we have
Skylar
. Just stunning! Skylar is a stunning dusty blue with silver and gold microglitter. Oh my gosh, this baby is gorgeous. This was an easy two coats. This is a similar finish as
Neeka and Yara
from the Smoke and Mirrors collection from Fall. I cannot get over how much I love this.
Tru
is a medium grape purple with copper shimmer. Application was perfection with two effortless coats, but could have also worked with one thick coat. I'm not excited by this color for some reason but it is pretty.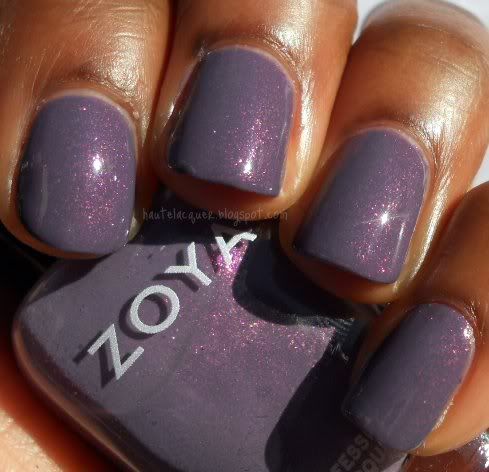 Lotus
is a dusty purple with pink shimmer. In real life, it's a little darker than you see in these photos. We've seen this before in polishes like Revlon
Perplex
but the finish on this one is different. Lotus is also more packed with the pink shimmer than
Perplex
. I much prefer Lotus. Plus, the name is really pretty. This was two easy coats.
Now Zoya's new "Fleck Effect" flakie top coats! These are not only
Zoya's
first flakies but also
my
first flakies: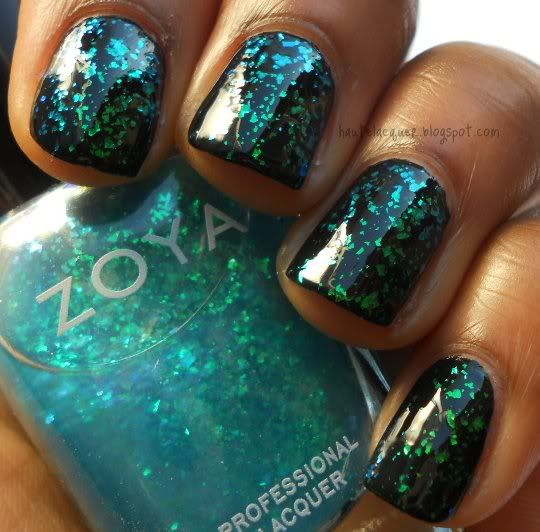 First up is
Maisie
, bright green and turquoise flakies in a clear blue base. I've heard that applications with mylar flecks can be tricky but I found application to be quite easy. This is one coat over black.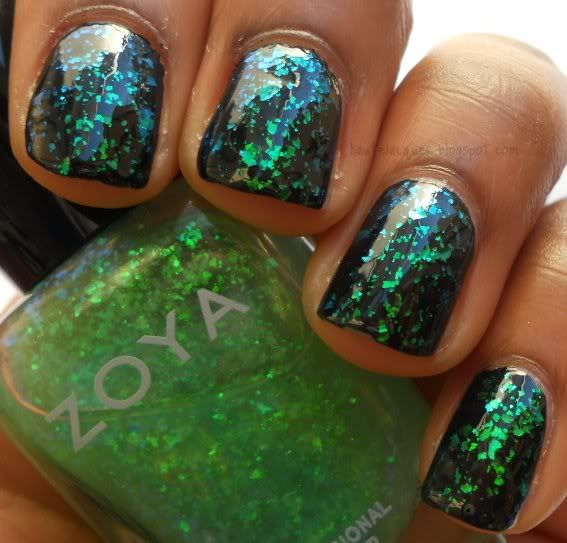 Next we have
Opal
. Opal has bright green and aqua flakies in a clear green base. This has less blue in it than
Maisie
does. Formula was on the thick side but was dense so it only needed one coat. I layered all three "Fleck Effect" top coats over black so you can get a better idea of the colors.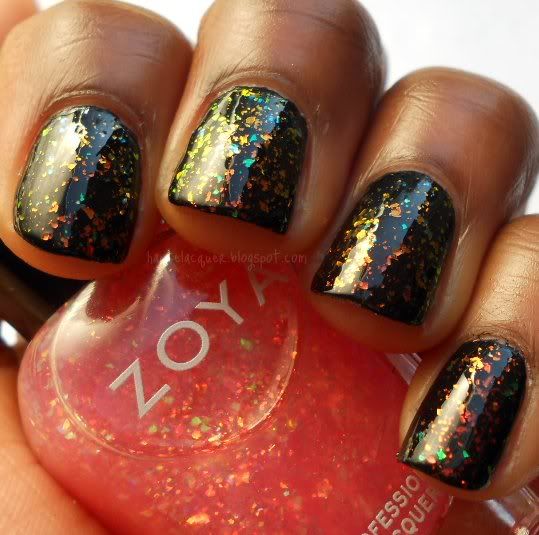 Last, but definitely not least, we have the stunning
Chloe
! This is my favorite of the three. Chloe is full of colors--gold, green, red, orange, yellow, pink, and a hint of blue--but the main colors are gold and red. I really love this one! Easy application. One coat over black.
These were designed to be layered over the True Collection so I tried a few combinations: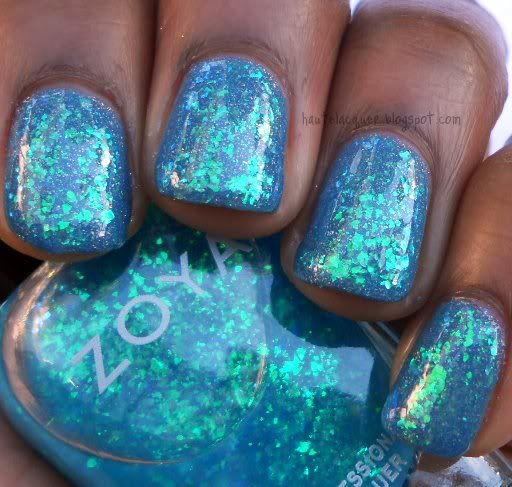 Two coats of
Maisie
over
Skylar
. Isn't that just the prettiest thing ever? Please click the picture to enlarge it so you can see how great Skylar's microglitter work with Maisie's flecks.
Two coats of
Opal
over
Bevin
. There's a little less contrast between these two but it's still very pretty. Again, please enlarge it so you see how pretty it really is.
Lastly, two coats of
Chloe
over one coat of
Lotus
. I'm sure your jaw has dropped to the keyboard by now so I'll just let the picture do all the talking.
Overall, I love both collections! Almost every color was unique on it's own. I especially think that Skylar set the bar high for the best Spring nail polish. The formula on all of them was effortless with the exception of Opal and Cho, which required three coats. Of course these colors work really well for any skin tone as well as darker complexions such as my own. I have several favorites which are Bevin, Cho, Chloe, Skylar, and Lotus. Zoya has left me speechless on more than one occasion but these Spring collections are on another level.
The Zoya True and Fleck Collections are available on
zoya.com
starting January 13, 2012 and retails at $8.00 each per bottle.
*Products sent for review.