Hello, hello!
Long time no see...exams just finished and I'm out of school until January so I have a lot more time for blogging!
Now let's move onto the manicure, shall we?
This gorgeous glitter that you see is from Rite Aid. I bought this in October after seeing how cute the snowman bottles were and to my surprise the quality of the polish is pretty good too.
I always get comments saying that my more simple manicures are much easier to do so I figured I would do simple manicures for Christmas since I know there are so many great bloggers that are going all out for the holidays.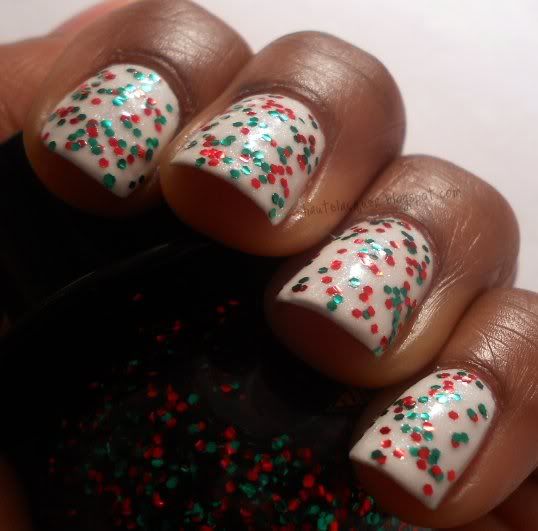 This polish doesn't have a name so I'm going to just come up with one right now. How about...Holly Jolly?
Holly Jolly
is a red and green large hex glitter in a clear base. I layered one coat over
Wet N Wild Break The Ice
--which is a gorgeous white shimmer on it's own. Holly Jolly applied amazing. This polish is pretty dense so application was simple. No need to carefully place the glitters. It also dried nice and smooth, these pictures are without a topcoat.
If this doesn't get you in the mood for Christmas time then I don't know what will. I'll be back with nail art soon. (: