Good morning!
Ready for day two of Retro Week?
Today's design was inspired by a picture that I saw online. I saved it a long time ago in my inspiration folder but I don't know what blog it came from. If someone knows, please tell me in the comments so I can properly credit.
This came out a lot different than I wanted. I still like it though. I just wish the topcoat didn't bubble and smear so much.
Ah...well, we can't have it all.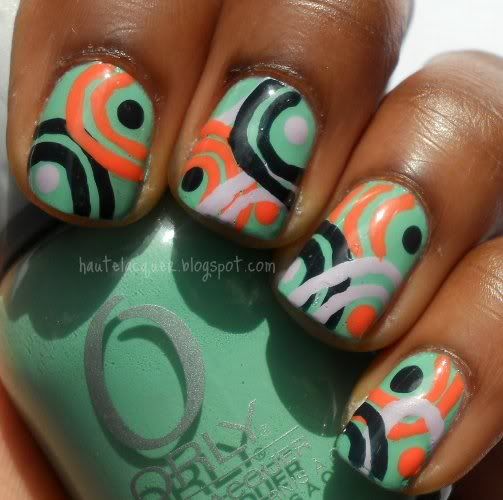 For this manicure I used Orly Ancient Jade as the base. Next, I drew dots on several different spots on each nail. Then, using a nail art brush, I took
Zoya Cynthia
,
Zoya Marley
and an orange polish (I forgot which one) and drew the lines that surround the dots.
This was a fun and easy design to do, but taking your time is essential. I rushed through this design, (which I even said
not
to do in my nail art guide) so it didn't turn out as thin/neat as I had hoped.