Today's mani was inspired by
MadamLuck on Youtube
. Her swirl design with the skull was so cute that I had to try it!
Unfortunately I had no idea how difficult it would be to get the swirl right. Nonetheless, I really like it. I have to admit though...the glitter nails are my favorite.
Oh, and if you're keeping up with
"the game"
, my thumb would be the jacked up finger today.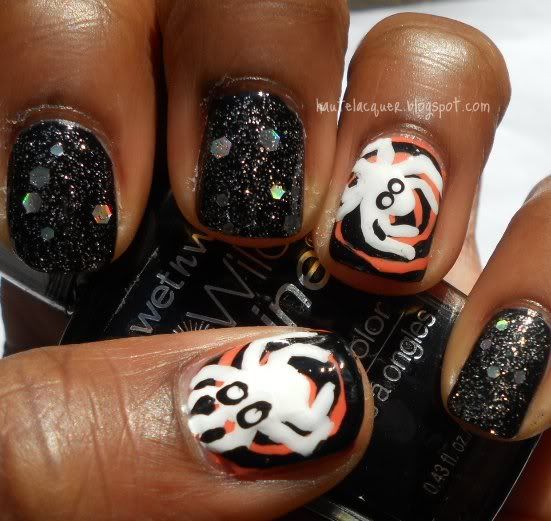 For this manicure I used
Wet N Wild Black Cream
as the base. For the glitter nails I layered
Kleancolor Black Out
(which is amazing!) over the black cream. The accent fingers were made following
MadamLuck's tutorial
and
Wet N Wild Club Havana
(for orange swirls). Instead of the skulls MadamLuck drew, using a nail art brush, I drew white spiders on my swirls.
Other than a few minor mistakes, I'm really liking this design and I am seriously, seriously loving this glitter! Everyone needs
Kleancolor Blackout
.