Good morning!
This is going to sound really weird but the idea for this manicure came to me as I was sitting in bed Saturday morning. I woke up around 8 or 9 AM to do my nails and take pictures while the sun was still up and I was just brainstorming ideas.
It's kind of random really. I just remember when I was in elementary school my favorite things, during Halloween time, were candy corn and those
plastic spider rings
my teachers used to give out. Of course I always lost them hours later...
Anyway, I thought it would be perfect to combine the two and I think it came out pretty cute!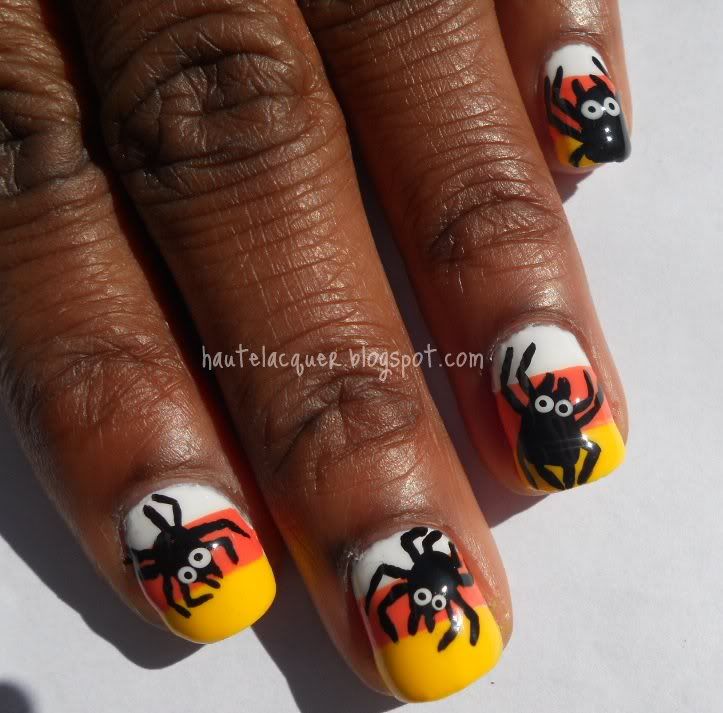 For this manicure I used
Wet N Wild French White Creme
as the base. Then, using a nail art brush, I free handed the stripes using
Essence What Do U Think
(orange) and
Kleancolor Neon Yellow
. The spiders were created using a thin nail art brush and a black cream polish. I used dotting tools for the black and white eyes. I let it dry for a few minutes and then finished off with a coat of Seche Vite.
This is a design I created for blogging purposes only, kind of like I was testing it out first, but I think I really will re-create these during the week. I am seriously in LOVE with this design!
What do you think?