Good morning everyone!
I mentioned on Twitter that I would be going back to school today so I won't be able to post as I normally would. Today's post is a scheduled post. Most of the posts this week will be. But it's only until I find a posting, swatching and nail art routine that works for me.
I was inspired to do this beautiful design after seeing
JaeMarie2008
's tutorial on
"Simple Abstract Flowers."
I fell in love with it as soon as I saw the video. It's so simple but I am obsessed with it!
Here it is with a topcoat, I prefer it matte though.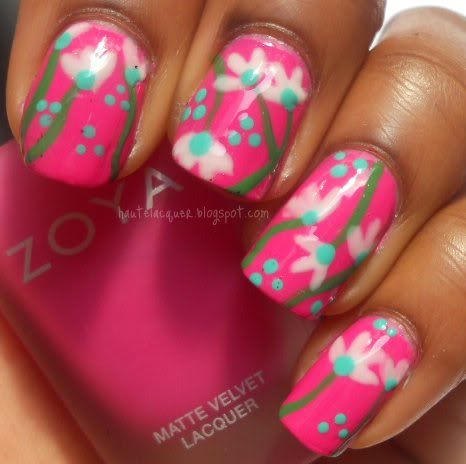 For this manicure I used
Zoya Lolly
--from the Mod Mattes Summer Collection--as the base. Then I started creating thin green lines all over the nails using
China Glaze Starboard
. Afterwards I took
Wet N Wild French White Creme
and I drew the flower petals. I went back in and drew the dots using
Barielle Do Unto Others
and a small dotting tool.
This could possibly be the most simple nail art I have ever done. It took me less than 30 minutes to create this.
I only wore this for a day because I wanted something else for my first day of school mani.