Hey everyone!
I've been complaining on Twitter about how there has been no sun lately. No sun means blurry and bad quality pictures. Luckily there was some sun this morning so I quickly took pictures. I literally ran out of bed and downstairs before the sun went away! It wasn't until after the pictures were taken that I brushed my teeth and ate breakfast.
I created this design yesterday using my new dotting tools that I won from
Midnight Manicure
's giveaway. I had dotting tools before but they were all the exact same size.
This is also my first time wearing
OPI Skulls and Glossbones
from their recent Pirates of the Caribbean collection for Spring. I am madly in love with this color! Words can't even describe. It's like a dusty taupe-gray that is just amazing.
Of course, taking the name literal, I drew skulls and bones on all my nails.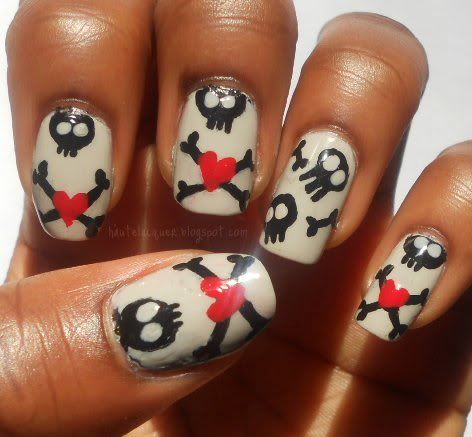 For this manicure I used
OPI Skulls and Glossbones
as the base. I created the bones using
Rimmel London Black Satin
. The hearts in the middle were made with
China Glaze Hey Sailor
. Taking my dotting tool and the same black I created large dots to represent the skulls. Then I used my nail art brush to draw the three lines attached to the skull. What are they called anyway? Going back in with my dotting tools, I dotted some eye holes with
Skulls and Glossbones
.
This design came out kind of messy but I think it's really cute so I'll just ignore that. (: