Again I want to thank everyone for supporting my blog and reading my posts. I'm still shocked that I have all these wonderful readers/followers and I've been blogging for a little over 6 months!
I appreciate each and every one of you, so much.
As you know, all the
random winners
have been selected,
announced
and successfully contacted.
But what about the grand prize winner?
The lucky winner is.....
Casandra W
!
Congratulations!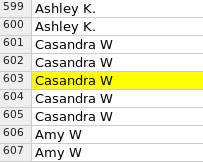 Casandra has 5 days to respond to my email or I will choose a new winner. I'm extending the time because I would hate for anyone to lose a prize like this.
As for everyone else, thank you all for entering. 222 people entered and there were 819 total entries! I will be having more exciting giveaways in the future, so don't worry if you didn't win this time.
I would love to hear some feedback on this giveaway.
What did you like? What would you like me to do again? What would you like me to do different next time?