Hello everyone!
First I wanted to tell you about a new blog that I already love. My best friend, Emily, just started her very own fashion/beauty blog over at
Style As A Second Language
. I know a lot of you are interested in fashion as well as makeup and I think her blog would be great for you. Show her some love and support and check out her blog!
Now back to the manicure. I'm in the process of going through my untrieds and using them all as bases for my nail art. One of the ones I chose to wear was
Fingerpaints Chrysanthe-Mum's The Word
. I
hate
the name, but I love the color.
Also, how do you guys like the size of this picture? Do you like my pictures better when they're big like this or smaller like my last post? Let me know!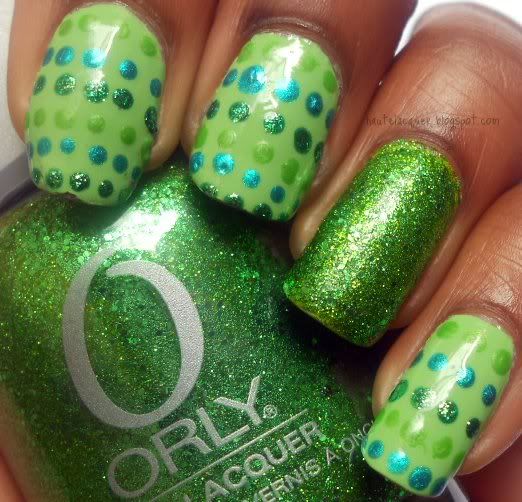 There was zero sun when I took this picture, *sigh*. Also excuse the chip on my index.
And here's Chrysanth-Mum's The Word on it's own.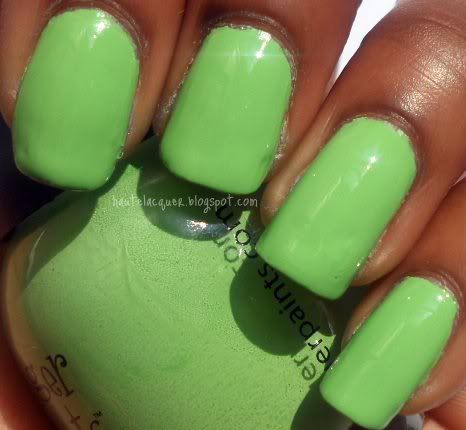 For this manicure I used
Fingerpaints Chrysanthe-Mum's The Word
as the base. This is an interesting color, it's like a pastel lime green. Really pretty! I used my dotting tool to create the dots. The polishes were
Fingerpaints Groovy Green
,
Rimmel London Green With Envy
and
Zoya Ivanka
. The glitter on my ring finger is
Orly Here Comes Trouble
from their Pin-Up Collection.
I really love doing polka dots. They're fast and easy and really simple. I don't wear a design more than once but polka dots can be done in so many different ways!