I'm so excited to be showing you this polish today! I only have three nail polishes from the Barielle Karma Kollection but I will say that out of the three, this is my favorite.
The finish on this one is so unique and beautiful.
I also went back and created this random design. It kind of makes me think of a maze, or maybe those things that would hypnotize you?
Of course I smudged my index as soon as I started taking pictures. There was no turning back, so I continued like it wasn't even there.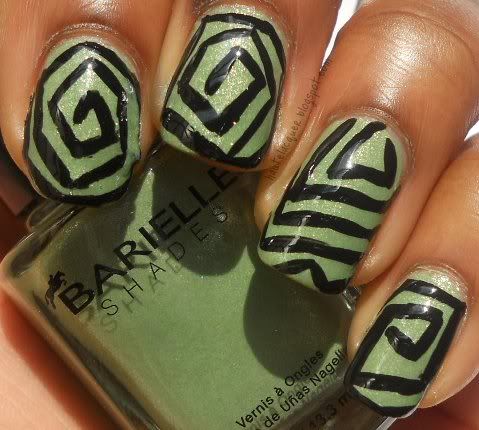 Here is the beautiful
Positive ZEN-ergy
on it's own...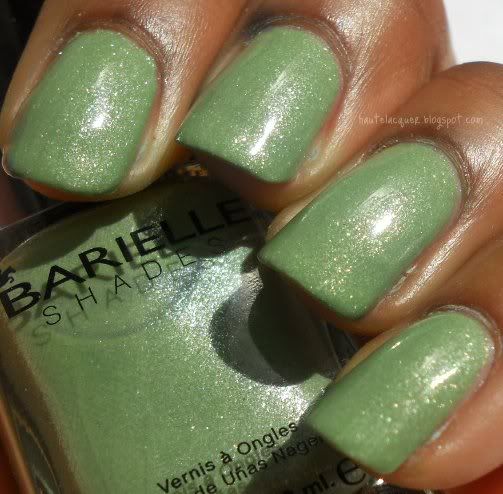 Barielle Positive ZEN-ergy
is a medium mossy green packed with silver shimmer. At times, I even see gold shimmer, but maybe that's just what my skin is pulling out. The formula on this one was great! I used 2-3 coats and had no problems with thickness. This color is so stunning! Everyone must own it.
For this manicure I used
Positive ZEN-ergy
as the base. Then, using my nail art brush, I started creating random lines with
Rimmel London Black Satin
. I tried to keep all the lines following one path but some of them don't.
Lately I've been really into green polish, I'm sure some of you have noticed. You'll probably be seeing more green as the weeks go by!
*Some products in this post were sent for review