It's Monday! Which means that it's a new theme in PAA. This Monday's theme is fruit.
Now back to the manicure!
I had to watch a few tutorials on Youtube before I could get the shape of the pineapples to come out right, but I think I finally got it! It's the smaller details I had trouble with.
Anyway, here's what the final outcome looks like....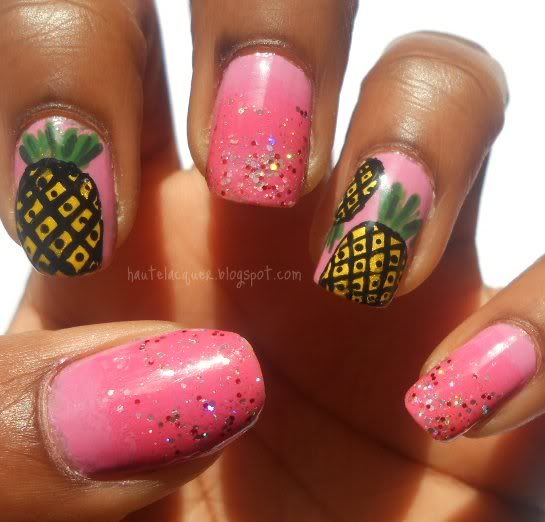 For this manicure I used
OPI Sparrow Me the Drama
as the base. Then, using a cosmetic sponge, I sponged on
Wet N Wild Candy-licious
to my thumb, middle and pinky. Afterwards I sponged on
Kleancolor V.I.P
. (my new favorite glitter!) over
Candy-licious
. The pineapples were made using
Butterfly Jungle
and then
China Glaze
Starboard
for the leaves. I mixed in some black to darken it up.
You may have noticed that I shortened my nails. I was getting really tired of the length. At this length, I'm more carefree and don't have to worry about breaking a nail every minute of the day! I do miss doing nail art on longer nails though, it's like a bigger canvas.
Well thats it, see you in my next post!
*Some products in this post were sent for review