Hey everyone!
A little while after that balloon fail I posted I sat down to try another manicure.
I'm stepping away from all the pretty purples and pinks and showing you something a little more risqué. Not sure if I'm using that word right but it sounds cool so it's happening.
A few days ago I was browsing Google for unique patterns I could work with and I found a tie with the most amazing murder scene pattern on it! I don't know what company makes it or where the picture is originally from but I knew I had to create this manicure ASAP.
Plus I received a hot black glitter from Wet N Wild and this was the perfect way to use it!
For this manicure I used
Wet N Wild Blackmail
as the base. Then I drew the white outlines using
Wet N Wild Hush Hush
. After the outlines of the people were dry I drew yellow stripes with
Zoya Creamy
, my all time favorite yellow! The words "CAUTION" were carefully written with a nail art brush and
Rimmel London Black Satin.
I was going to add blood to some of the nails but then thought it'd be too much, so I didn't.
Now, you
know
I couldn't finish this post without showing you the amazing
Wet N Wild Blackmail
, a gorgeous black with gold/silver micro glitter! I had trouble capturing the beauty of Blackmail. This is 3 effortless coats, two coats would've been fine but the camera picks up on bald spots.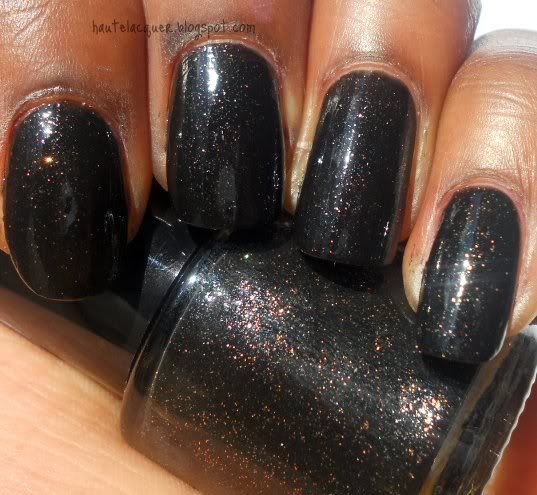 *Click to enlarge*
And the tie that started it all...
So what do you think? I'm curious to see if you guys like this design. I know I fell in love with the pattern as soon as I saw it.
*Wet N Wild polishes sent for review