Gooood morning!
I'm really excited about today's manicure! This is the probably one of my favorite sponging manicures that I have ever done. The fade is a lot nicer and the design on top is like the icing on the cake!
I've had this on for about three days now.I couldn't upload pictures since my camera's SD card was no longer working on my computer. Luckily I found a good USB card reader and I can upload now!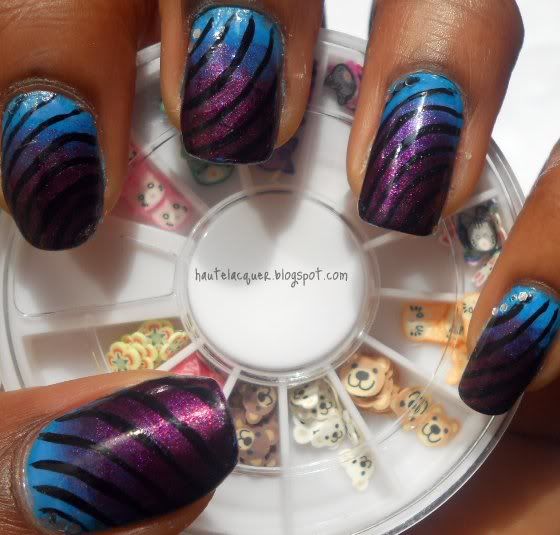 For this manicure I used
Kleancolor Neon Aqua
as the base. Using a cosmetic wedge, I sponged on
Butterfly Single
onto the tips of my nails and up to the base. Then I lightly sponged
Zoya Valerie
to the very tips of my nails. Using a black polish and a nail art brush I drew curved stripes throughout my entire nail. And because I never stop until I run out of ideas, I added a few glitter pieces to the tops and bottoms of my nails.
The fimo wheel I'm holding is one of the items that goes in the giveaway. They came in the mail a little while after I posted the giveaway. Here's what they look like. This will be going into the grand prize.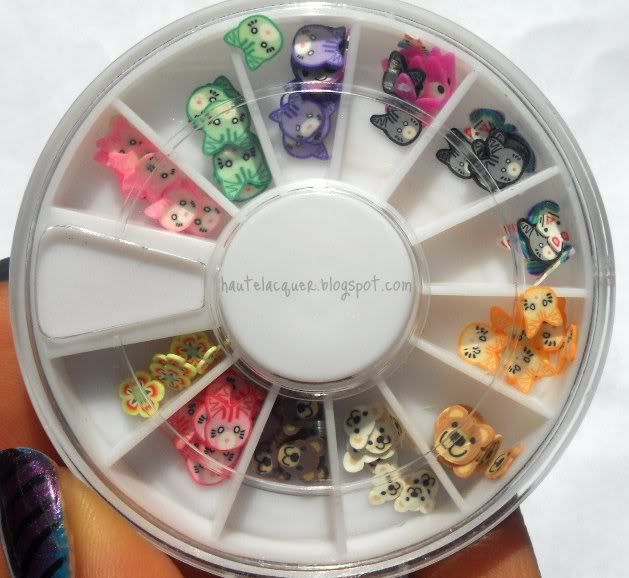 P.S. Don't forget that tomorrow is the start of the
Twitter giveaway
! Make sure you're following me to participate. If you don't have a Twitter, no worries, more giveaways to come in the next few weeks.