I have some more sponging for you! This time I took this orange by Constance Carrol called Apricot Sun and sponged it with
Zoya Richelle
as well as
ChG Lighthouse
.
Actually, I'm not sure, is the brand name CCUK or Constance Carroll? I've searched both and they both come up. Someone correct me if I'm wrong because I've been calling it CCUK.
Anyway, I decided that as pretty as this color was, I wanted to add some sponging. I've been really into sponging lately. Especially since I learned how to do it! I've even been giving myself sponged pedicures (I'll spare you the pictures)!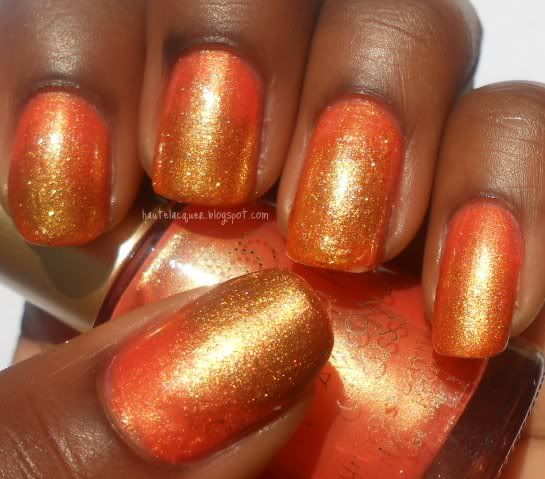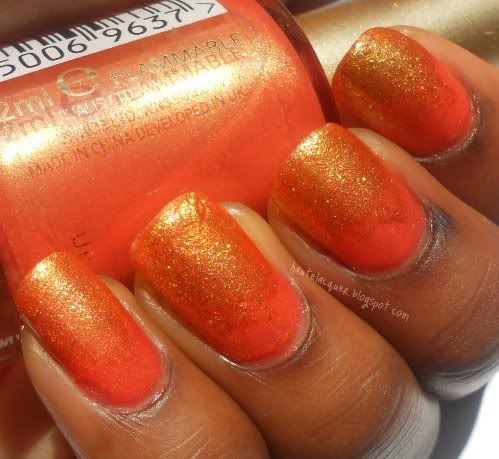 For this manicure I used
Constance Carroll Apricot Sun
as the base. When that was dry I used a cosmetic sponge and sponged on
Zoya Richelle
. It looked a hot mess so I went back and sponged
China Glaze Lighthouse
over it.
And here's Apricot Sun on it's own.
Constance Carroll Apricot Sun
is a bright, citrus orange with strong gold shimmer. This took a lot to be opaque. It was so sheer that I used 3-4 coats. Other than that, application was great. It went on nice and smooth and dried quickly.
That's all there is to it! It was really simple and easy. I have not been feeling creative lately so this is enough to satisfy me!
P.S. I'm on Bloglovin now!
Follow my blog with Bloglovin