Good morning everyone!
First, I'm sure you noticed the new layout and comment system. I know it's a big change. I also listed my Twitter and Facebook to the right. I think it looks a lot neater. How do you like the new layout? Do you like it better than the old black one?
Now to the manicure, I spent a little over three hours creating this manicure of cute little monsters. It's not as bad as it sounds! It was really fun to do so the time flew by. I started at around 2 pm and when I looked up at the time it was already past 5!However, I only my left hand since the other probably would have taken an additional 3 hours! The other hand is a lot more simple.
There are many mistakes. I also dented a few as the day went by. But I didn't want to take another hour to redo any. Besides, I still like it.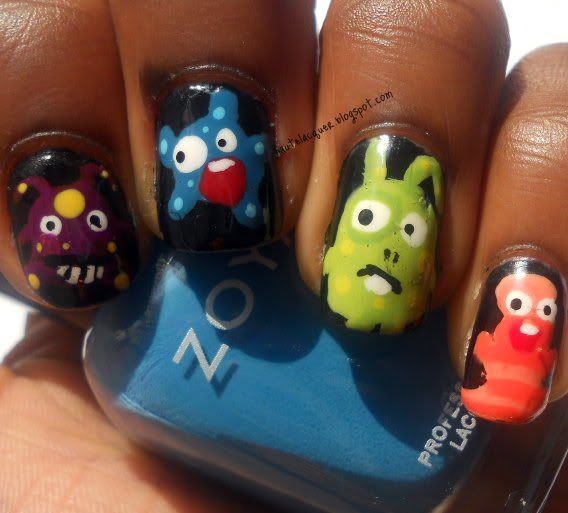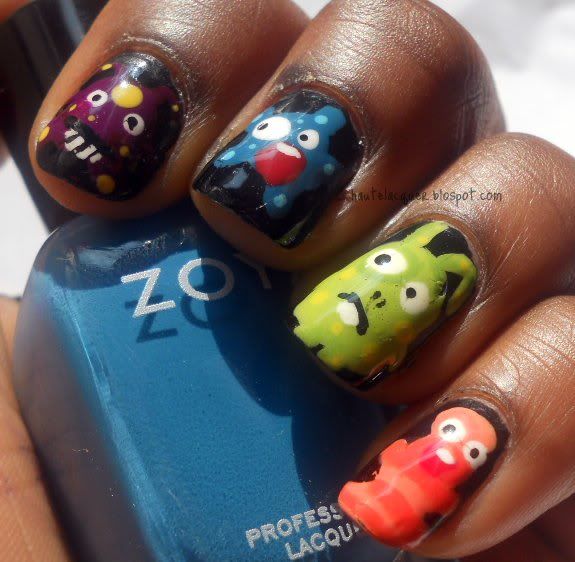 This manicure is kind of similar to my
Ugly Dolls manicure
I did last month, but unlike my Ugly Doll mani, this one was mostly inspired by this picture:
For this manicure I used
LA Colors Black Velvet
as the base. Then I created the bodies of the monsters using several different polishes. The details such as the dots, eyes, mouths and teeth were all created using nail art supplies and brushes. After it was almost dry I sealed it in with a top coat. Let me know if you're interested in knowing the name of a polish.
I really enjoy doing character type things but I wonder if I purchased acrylic paint if it would be easier and less messy to do detailed nail art like this? Especially since nail polish dries up so fast and I end up wasting a bunch of it, not to mention it drags and leaves weird strings of polish like on the index and ring finger.
Anyway, I hope you guys like it! My favorites are the middle and pinky, but I think they're all so cute!