Anything with bling
and
leopard print is automatically Diva to me. I know I wanted to do something way out of my comfort zone so I went straight to this design.
These are "in-your-face", tacky, hooker nails at it's finest.
I couldn't get all the nails to line up straight but I think they still qualify as divalicious.
Wow, this post just keeps getting cheesier. Anyway, here's what I came up with: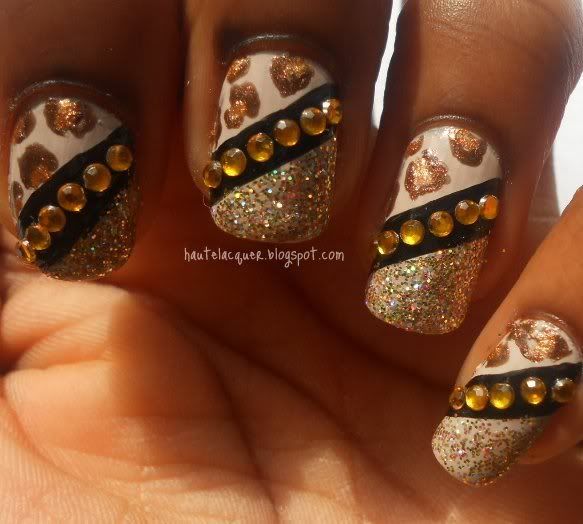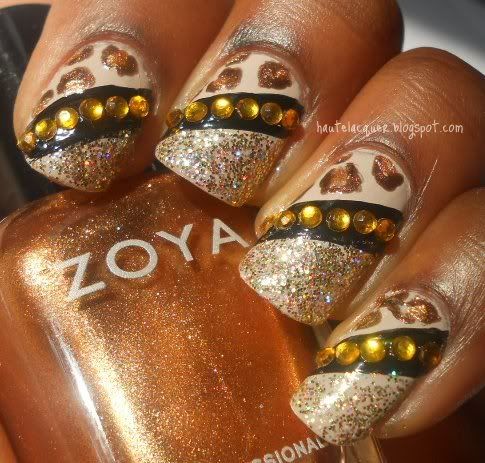 For this manicure I used my favorite nude/taupe as the base,
Ulta Set The Nude
. Then I created a thick black stripe across the nail with
Rimmel London Black Satin
. While that was still wet I applied gold rhinestones that I got from
Born Pretty
. The next two steps were simple: I freehanded the leopard print with
Zoya Richelle
spots and
Diamond Cosmetics Decadence
lining. Lastly, I applied
Funky Fingers Golden Coast
to the tips.
Not sure why the rhinestones look so huge in these pictures but they are small, normal sized rhinestones in real life.
I took this off after about an hour and did another design which I'll post later. This was WAY too much for me but I do like the design. It'd be great for someone whose going out to a party or club or something. Or if you just like to rock fierce nails!