I was going to post this early this morning but I just got around to making it now. I've been gone all day at my sister's college orientation. Not only did it take hours to get there (and back), but we stayed for an additional 4 hours listening to people talk, talk, and talk some more. It was brutal. The only fun part was going out of town, and doing out of town things.
Anyway,
this is another design I created while my internet was down.
I'm currently in the process of using all 32 of my untrieds. I figured, "it's only 32, I'll just use them in my nail art." So far I've worn about 8 of them, including
China Glaze Below Deck
, which I used in today's post.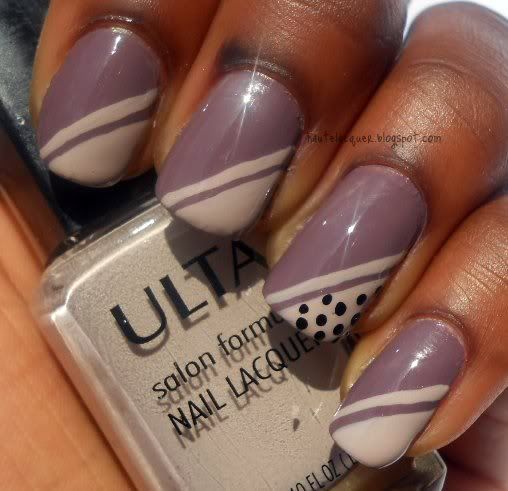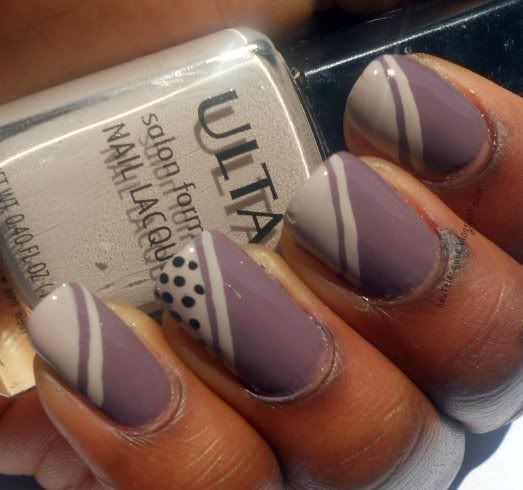 For this manicure I used
China Glaze Below Deck
as the brown-ish, purple base. Then I took
Ulta Set The Nude
and applied it diagonally from the tips of my nails. I also went back with my nail art brush and drew a thin line, diagonally, following the tips. The dots on the accent nail were made with
Rimmel London Black Satin.
I have no idea why I didn't use Below Deck sooner! It's so beautiful, one of my favorites from all my China Glaze polishes.
That's all from me today, I'll be back tomorrow with my "
Monday's Nail Art Challenge
" design! This week it's floral. (: