Before we get to the nails, I wanted to go over a few things about my
100 Followers Giveaway
. I've gotten a few questions about the extra entry where you tell me about your worst manicure experience. I'm not going to be super picky about it. If you leave me an answer saying you broke your nail, or you smudged them, or if you go into huge detail about how horrible the manicurist did your nails--you will get the extra entry! But if you say "I don't know" "I don't have one" or anything like that-- you won't get the extra entry. Nor can you re-enter.
Also, if you marked that you want to enter for both prizes, the extra entries as well as the 1 automatic entry for your name/email will go to your first choice, and then your second choice gets the automatic 1 entry for your name/email only.
I hope that cleared things up for everyone who entered,
contact me
if you're still confused.
Now onto the nails! I attempted a leopard print nail design since I've been seeing this around but haven't gotten the chance to try it. I feel like I'm still so new to nail art.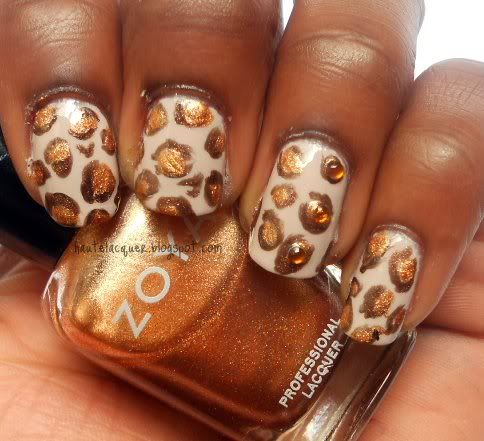 For this manicure I used
Ulta Set The Nude
as the base, then I went in with my nail art brush and used
Diamond Cosmetics Decadence
for the outline of the spots. I filled in the spots with
Zoya Richelle
. The rhinestones are from Born Pretty.