Ulta was having a 2 for $4 sale on their salon formula nail polishes so it only made sense for me to go and shove all the polishes in my shopping basket. I barely looked at the colors, I just knew they were cheap so I threw 'em in there!
One of the beauties I got was
Ulta Bam-Blue-Zled.
I wasn't too sure about this one since the last Ulta cream I purchased was really bad quality. But the color looked too pretty to pass up so I ended up getting it. I'm really glad I did, it's a very pretty color. See for yourself...
(Sorry about the lack of clean up, I was trying to catch the sun so there was no time to waste.)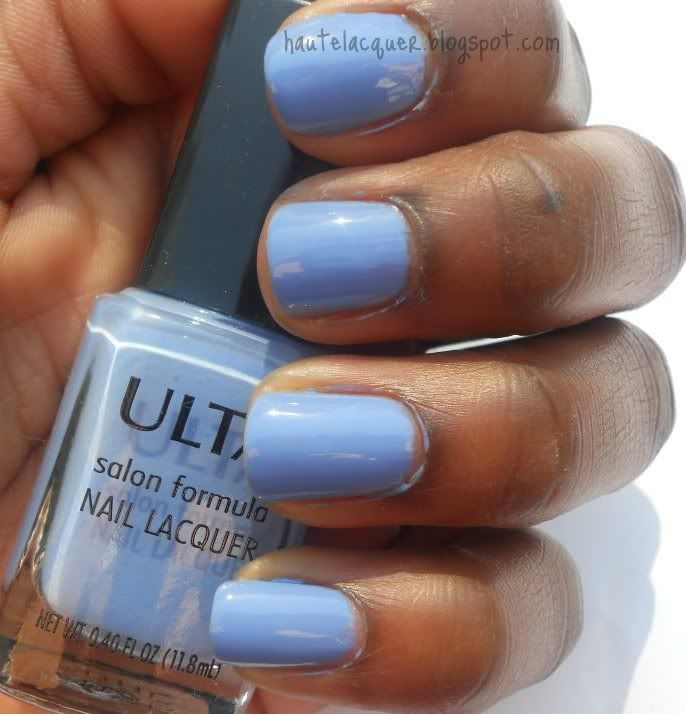 Picture taken in direct sunlight
These last two pictures are probably the most color accurate.
Picture taken in daylight--no sun
Picture taken in daylight--no sun
Ulta Bam-Blue-Zled
is a dusty, light blue with subtle purple undertones. Almost like a light periwinkle shade. It took about 2-3 coats for full opacity and it dried as a nice cream finish, maybe even a bit of a jelly finish. Application overall was fine, but it is a bit hard to get a nice even coat.
I absolutely love the name of this polish! For some reason I think it's so cute! This also has to be one of my favorite blues. I feel like I keep changing my mind, but this really is beautiful in person.